The Runway 28 Gin Road Show visits Cavan for National Women's Enterprise Day hosted by The Cavan Business Womens Club at The Farnham Estate Cavan Oct 13th
Margaret Mc Keon-Boyle of Extensive PR coordinator at the #NWED22 for #CBWC
MarieAnn with Hillary Smith - The Runway 28 Gin Roadshow team!
2 MINUTES WITH MICHAEL COMYN - COMMUNICATIONS TRAINER - BROADCASTER AND PODCASTER. ON COMYN GROUND & SQUAWK 7000
2 minutes with Michael - Aviation style..
What are you up to right now Michael, and which work arena do you enjoy most of all?
Broadcasting & Podcasting are my favorite. It get's me talking to people, and listening to people who all have interesting stories. I miss getting out and about to record, and won't miss recording on Zoom, even if you get to see everyone's bookshelves!
Name your favorite holiday destination & why?
Easy - Ibiza old town - just the right mix of busy and quiet when you want it.
Can you name your favorite aircraft and why?
Lockheed Constellation - iconic of when travel was glamourous and exclusive. A three tailed beauty - google it!
Any local airline hero's in Ireland that should be known everywhere in the world?
Any customer facing airline staff member who has dealt with grumpy tired and irritable passengers - hero's all.
Tell us about your ultimate favorite drink (don't worry, it doesn't have to be Runway28 Premium Gin!)
Easy - the classic G&T Premium gin, with the best tonic I can afford - and when I'm being bold - Gin in a Long Island Iced Tea - even if the limit is two!
Bessie Coleman - Black Woman, Pioneer, Aviator
What's your challenge today?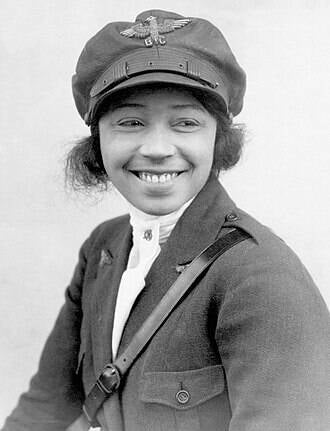 Bessie Coleman
Black Woman – Pioneer – Aviator – What's your challenge today?
Bessie Coleman was born to a Texan family in January 1892. As a young child she worked the land on a cotton field, and by the time she reached school going age, she, along with many other local children, attended a segregated school for African American children.
However, the young Elizabeth Coleman, whose lineage was part Cherokee, looked to the sky for freedom. "The air is the only place free from prejudice" she once declared. Bessie would face many challenges before takeoff. With a ban on both women and black people entering US Flight schools, her journey took her across the sea to France in 1920. The young hopeful Aviator had worked several jobs to save up enough money for transit and lodgings abroad.
Laterally Bessie became fluent in French (in order to complete her training), she faced the mechanisms of a stick shift, the thickness of a baseball bat, in order to master and handle the steering system of a Nieuport 564. On June 15th 1921, Bessie earned her International Pilots License. She was the first African American person in the world to do so.
With the age of commercial flying still decades away, Bessie joined the ranks of airshow stunt flyers, preforming dangerous shows for paying audiences. Coleman became committed to both aviation and the pursuit of equal rights for African American and Native Americans. She would not preform at Airshows and events that prohibited the attendance of African Americans.
On April 30th 1926 Bessie was in Jacksonville Florida, she had saved hard for a recently purchased Curtiss JN-4 (Jenny), however, the aircraft had not been adequately serviced or maintained. Mechanics quickly worked to ready the aircraft for flight.
In preparation for her next airshow Bessie took to the sky, feelings were high, mechanics and friends had advised her to hold back until further investigations were carried out on the newly purchased Jenny. Approximately 10 minutes after takeoff, the aircraft went into a nose dive. Coleman was thrown from the plane and died instantly. It was later found that a wrench that had been used to service the aircraft, had jammed the controls. Bessie was 34 years old.
In the years that have passed since Bessie died, schools, libraries, airports, and streets have been named after "Queen Bessie" of the sky. Her legacy continues to live on in the minds and hearts of all who face challenges of discrimination, gender equality or bigotry, whether on land or in the sky.
In her own words "The air is the only place free from prejudice"
– Bessie Elizabeth Coleman 1892 – 1926
With thanks to The Wikipedia Org for research information and photo supplies. Special thanks to The New York Times for photo also.
FlyinginIreland.com features Runway28Gin in latest online publication!
Massive thanks to Michael Comyn and Mark Dwyer (Editors) at FlyingIreland.com (Ireland's premier Aviation online publication) for featuring our story in their latest Industry issue.
Sincere appreciation to all at the Editors desk!